Lund Greeters
Lund Greeters Click here to
book a greet! Lund voluntary tourist information Destination Lund offers more than online tourist information, we also are part of the International Greeter Association. Greeters are a service providing visitors to experience the city together with a local citizen, which opens up for visitors to find out more about the city. A greeter, who lives in the city, can show their hiking spots, which otherwise can be hard to find for an unfamiliar visitor. The greeter can also show things that is of special interest to the visitors, and a greet always emanates from the visitors wishes. Greets are not guided tours, but focus on small groups, up to 6 persons. Dependent on the visitors wishes, a greet is usually ongoing for 2-3 hours, all for free, it is not even allowed to tip!
Photographer: Estefanía Moreno Amador.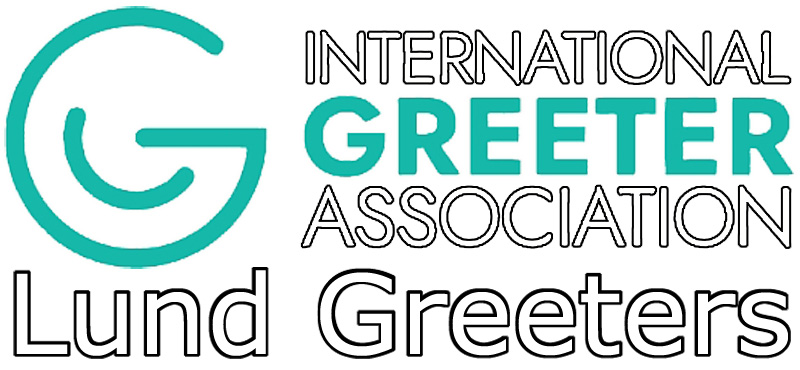 Lund voluntary tourist information Destination Lund is one of three Swedish destinations part of the International Greeter Association. We have been members since January 2020. Now (January 2022) there are 126 destinations representing 33 countries with more than 3000 greeters worldwide. Here you will find the page for the three Swedish greeter destinations. During 2021, the Lund greeters had visitors from Germany, The Netherlands, Ireland, and Spain, despite the pandemic. There has also been Swedish and Danish visitors. See some feedback below from some of those visitors.
Here you will find the Lund Greeters webpage at the International Greeter Association, were you can book a greet.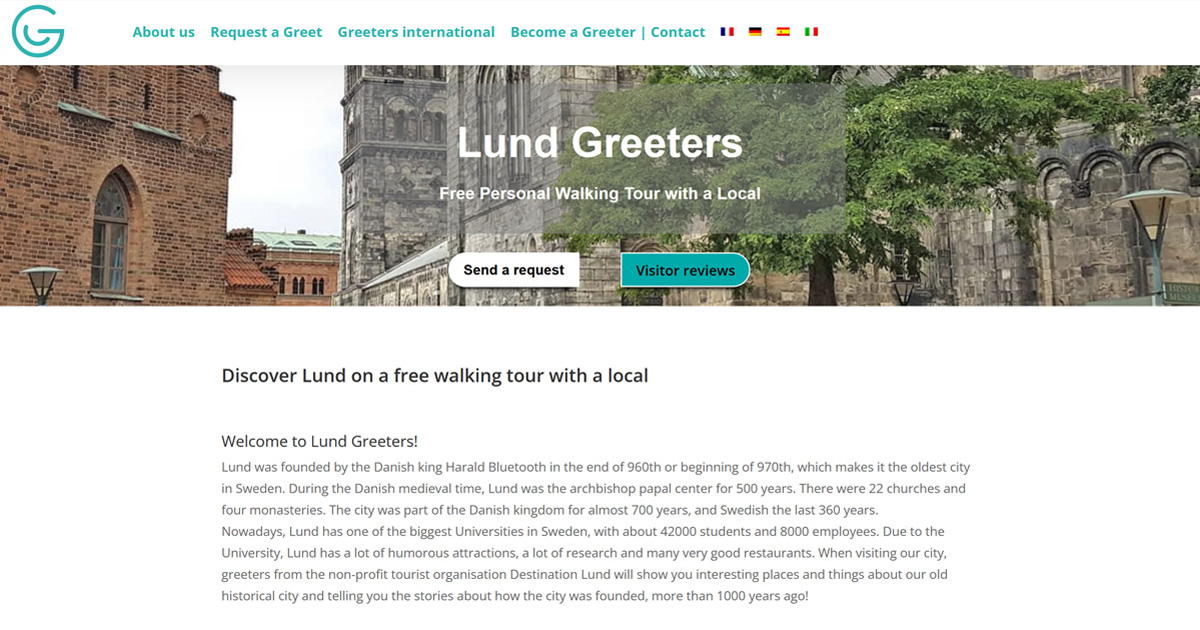 The International Greeter Association core values
All Member destinations and greeters share the following Core Values:
Volunteering locals
Greeters are volunteers, a friendly face for those visiting a city/destination.
Small groups up to six persons
Greeters welcome individuals and may serve small groups of up to six people.
Free of charge
Meeting a Greeter is free of charge.
No discrimination
All visitors and volunteers are welcome without any kind of discrimination.
Sustainable tourism
Greeters support sustainable tourism. They respect natural and man-made environments, bringing both cultural and economic enrichment to local communities. Greeters aim for a lasting positive image of each destination.
Cultural exchange
Greeter organizations create a mutually enriching opportunity for cultural exchange; create links between people in creating a better world.
Some feedback from our visitors
Loes Runneboom and Ruben Maris from the Netherlands:
We had a great tour with the luxury of having three guides for at least two or three hours. We think you were all very enthusiastic and kind. We loved all your historical knowledge, the information, details, extra information on students jokes and your personal recommendations for activities and restaurants. After the tour, Lund will forever be more than just a student town or just another city in Sweden.
Beatriz and Estefanía Moreno Amador from Spain:
Thanks a lot for this wonderful walk! My sister and I discovered loads of things about the city and learnt a lot about Swedish culture, and of course about the university students of Lund. Our greeters were very friendly and kindly, answering all our questions. Thanks to them we have a bigger knowledge about the city and the traditions from here. Also, they gave us some tips for improving our experience as visitors. You made it an enjoyable and entertaining walk! :)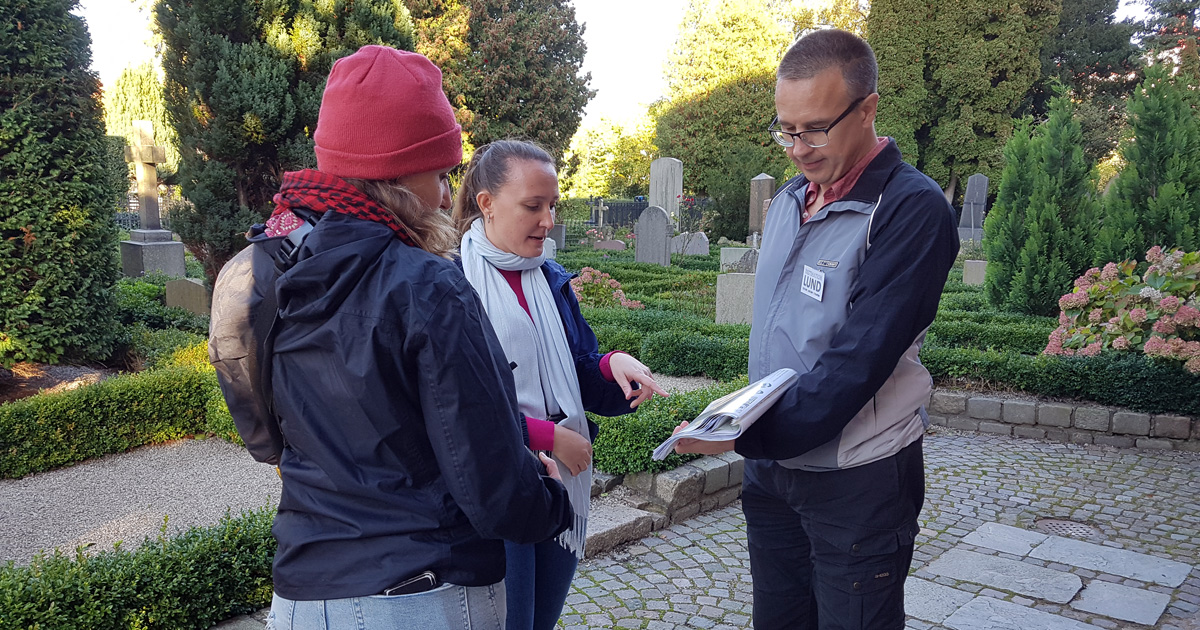 One of Lund voluntary tourist information Destination Lund greeters shows and tells Beatriz and Estefanía from Spain about the Cloister church, one of the two remaining churches from the mediaeval time